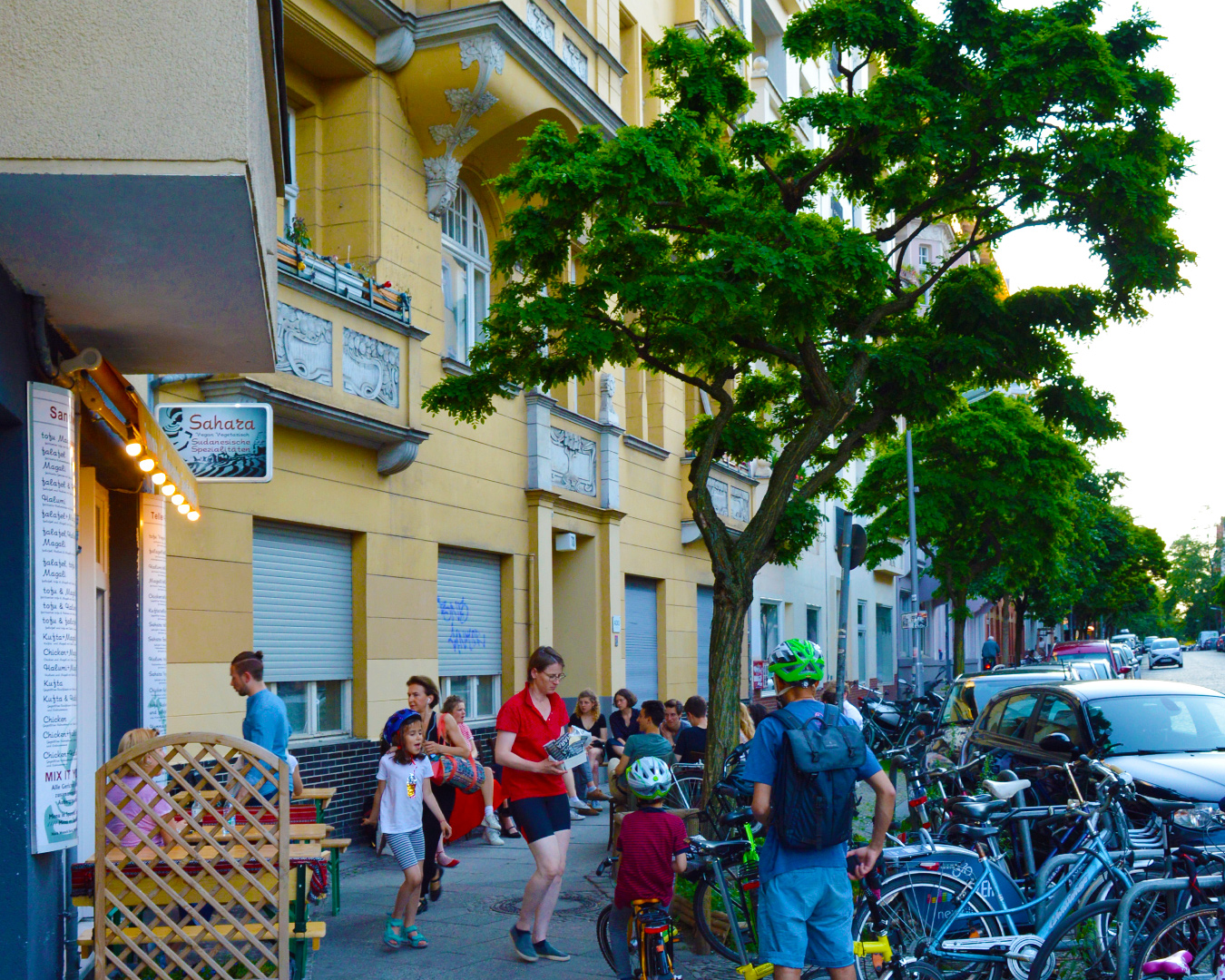 Sudanese Street Food & Falafel
in Berlin Schöneberg / Hauptstr
Falafel in Berlin Schöneberg
At the U-Bahnhof Kleistpark of the line U7, the main street begins at the intersection with Grunewaldstraße, where it extends Potsdamer Straße. This intersection is dominated by the administrative building Potsdamer Strasse 188-192, in which from 1945 to 2008 the Berlin Transport Company (BVG) had the seat of its headquarters.
After Grunewaldstrasse, the main road runs clearly with a slope, which was created by the transition of the Berlin Urstromtal to the plateau of the Teltow. This slope can be traced for several kilometers in the southern city center and the districts adjoining it.
This area of the main street is characterized, among other things, by people with foreign roots or foreign ancestors, who (or whose ancestors) have settled here since the 1960s. In addition to Turkish vegetable stores, there are supermarkets and other stores of various nationalities.The former Schöneberg City Hall on Kaiser-Wilhelm-Platz around 1895
In Hauptstraße 18 at Kaiser-Wilhelm-Platz is the "Damenheim", built in 1902 in neo-Renaissance style, which was exclusively inhabited by single wealthy ladies and "higher daughters" in the imperial era.
These ladies were among the women who were allowed to enter the professional world (mostly dominated by men at the time) for the first time at the time, for example teachers and doctors. The living comforts were very advanced for the time: central heating in the partially furnished rooms, dining and reading rooms, and domestic staff.
Sahara Snack
A touch of Africa from 01.03.2021 on the main street in Berlin-Schöneberg. Falafel, Bowls & Sandwiches the Sudanese way. Authentic Sudanese cuisine finally welcomes you on the main street with fresh and vegan delicacies. Sudanese specialties homemade with love.
Sahara Imbiss
Hauptstraße 159
10827 Berlin